Cooling Off in Tirta Merundang Natural Bath
---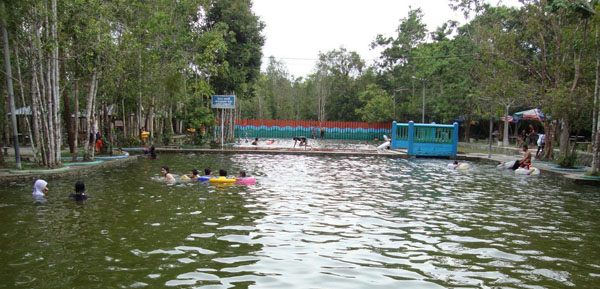 Tanjung Pandan City is part of Belitung Island. It has more than beautiful beaches. There are many other tourist objects, like Tirta Marundang Natural Bath. It is a great place for relaxation and refresh mind. This public bath features cool and natural atmosphere. It is surrounded by some shady trees and beautiful scenery. The location is in a secluded area, so you can feel peaceful nuance. Not to mention the water is clean and calm. If you are visiting Tanjung Pandan, you should never miss this unique location.
The Nuance
There are 2 pools in Tirta Marundang Natural Bath. The water comes from Marundang River. It was actually a river. The current was quite strong back then. The locals decided to build a safe place for natural bathing. The pools have a different depth, so you can choose the right one for relaxation. The trees make a perfect nuance. They give you a peaceful feeling while enjoying the calm and cool water. Moreover, the visitors are not only the locals but also foreigners. You can make new friends here.
Exploring Tirta Marundang Natural Bath
As mentioned earlier, the water comes from Marundang River. That means you may expect unlimited fresh water. Even though you come during the dry season, the water won't recede. On top of that, the water is clear. You can see the bottom of the river clearly. There are even some fishes living here. According to the keeper, these come from Marundang River. No worries. They are harmless. They make a perfect natural bath, after all. Everyone can cool off in this location.
Tirta Marundang Natural Bath features not only the pools but also some facilities. You can find a small café. This serves numerous foods and beverages. Once you enjoy the natural bath, you can eat some snacks in such café. Next, there is a kid's playroom. If you come with children, you can take advantage of that room. The other facilities are a dressing room, bathrooms, and beautiful gardens. Not to mention there is a wide parking lot.
Most of the visitors are locals. They often come to Tirta Marundang Natural Bath during weekends. You may also expect lots of visitors during holidays. If you want to avoid the crowds, you should come during workdays. The entry fee is cheap, so everyone can afford it. The best thing is the atmosphere. You can feel as if you were in an ancient era. This natural bath is also suitable for relaxation and spending quality time with families. Due to this reason, it has become one of the best tourist attractions in Tanjung Pandan.
Nearby Attractions
• Kaolin Lake
• Batu Mentas
How to Get There
Tirta Marundang Natural Bath is located in Sijuk District. To be exact, it is in Air Seru Village. The location is about 15 km from Tanjung Pandan City. From the port, you should take a taxi or local transportation service. No worries. The trip won't take long. Once you reach the village, you can easily notice that natural bath. The accommodations are good, as well.
Where to Stay
• Demuon Hotel
• Green Tropical Hotel

Latest News
Find the History of Bangka at the Pangkal Pinang Tin MuseumThe Tin Museum was officially opened on August 2, 1997. This museum displays the history of tin mining on Bangka Island which contains historical objects and tin mining dioramas. In addition, visitors can also watch the making of crafts from tin. The best part is that admission to the museum is free. In addition, if you want to find food around Bangka Belitung, there are many places to eat that you can choose from. The dining options available in Bangka-Belitung…
---
Have you ever visited Bangka Island? Bangka Belitung or Bangka Island is a province of Indonesia, which is located on the island of Sumatra. Although not as popular as Bali or Lombok, it has beautiful beaches, white sand, amazing coral reefs, and giant granite rocks. Some of them are rarely visited at all. To experience the untouched splendor of "Island of the Gods" at its best, travel with an experienced local guide, or arrange your own transportation. Enjoy the white sands of Bembang Beach in West BangkaBecause Bangka-Belitung has many…
---
Located in Muntok area in the northwest of the island of Bangka, Mount Menumbing has a height of about 355 meters above sea level. At Mount Menumbing, there is an exile pension of Indonesia's first President Bung Karno and Vice President Bung Hatta by the Dutch during 1948-1949 on the island of Bangka. The exile pension is guarded by the family who is also Abdi Dalem Sultan Palace of Yogyakarta, since generation to generation, where since day one they have responsibility to maintain Bung Karno and Bung Hatta during their…
---
Romodang Beach Romodang beach is located in Belinyu area, north Bangka 77 km from Sungailiat. We can see the very dramatic sunset at noon from this beach and those who like fishing, this is the perfect place to go for it. Moreover, this beach is always visited by those who want to spend time with family and friends for recreational holiday. One of characteristics from this beach is on the stone gate before reaching the beach. Local society call this gate as "Batu Belah Tangkup" or sandwich stone. Another characteristic…
---