Enjoying Outdoor Activities in Bukit Pangkuan, East Belitung
---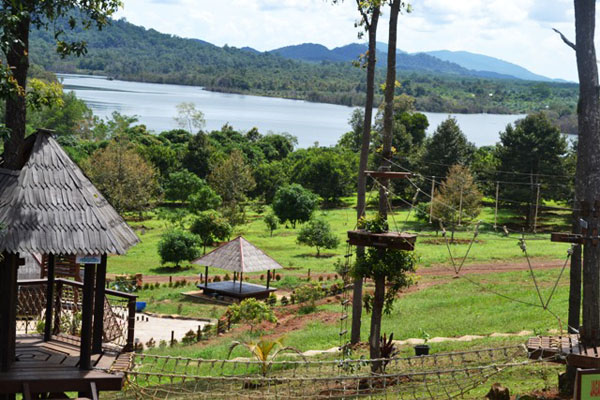 Are you visiting East Belitung in the near future? It is better to have some references. For example, you have Pangkuan Hill. The locals also call it Pangkutan Hill. Pangkuan means "lap". According to the legend, a woman died on her lover's lap on this hill. They ran to the hill due to their unapproved relationship by the elderly. Today, the hill becomes a tourist lure in Belitung. In fact, it is one of the best nature tourist spots in this region. If fact, it has an increasing popularity these days. The location is in Kelapa Kampit District.
The Nuance
Pangkuan Hill is surrounded by dense trees and plants. Though, it features a satisfying accessibility. Even though it is widely recognized by the locals, the visitors mostly come from outside Belitung. Some of them come from Bangka Island. In the midst of the hill, you can find numerous outbound facilities. These include flying fox, ATV, trampoline, high rope, and giant swing. In a nutshell, it is a place for those who love outdoor activities. It is also suitable for a family vacation.
Exploring Pangkuan Hill
The hill is actually agro-tourism. You only need to reach Mentawak Village. The most popular activity is flying fox. It is able to elevate your adrenaline, for sure. Even kids can enjoy this challenging action. There is an entry fee. Also, you should pay an extra fee for each outbound game. No worries. These games are affordable.
Apart from outbound activities, Pangkuan Hill is famous for traditional crafts. You can buy them from local sellers. Make sure you get some souvenirs for your friends or family. Since you are going to spend much money in this location, you must have prepared. The cost increases during holidays, as well. Make sure you can cover your family's liabilities. It is going to be a fun vacation, so it is worth your money.
Another fun activity is sightseeing. Pangkuan Hill features beautiful scenery. In the east, you can view mountainous landscapes. Also, there is a famous Parit Kemang Lake. These views are indeed appealing. The best time to visit the hill is in the morning. You can clearly enjoy the sunrise from here. In the west, you can witness a beautiful Tajam Mountain. It is covered by dense forest and beautiful nature. On top of that, the hill features cloudless sky and soothing atmosphere. What a great place to do outdoor activities.
Nearby Attractions

Tanjung Pandan City
Tajam Mountain
Parit Kemang Lake
How to Get There
The simplest way to reach Pangkuan Hill is from Tanjung Pandan. From Jakarta, you must head to Hanandjoeddin Airport in Belitung Island. From here, you can take a car or other vehicles to Kelapa Kampit District. The trip takes about 50-60 minutes. The hill is located in Mentawak Village. The road is smooth, so it is going to be a comfortable trip.
Where to Stay

Duta Pesona
Horison Belitung Hotel
Serrata Terrace Hotel

Latest News
Find the History of Bangka at the Pangkal Pinang Tin MuseumThe Tin Museum was officially opened on August 2, 1997. This museum displays the history of tin mining on Bangka Island which contains historical objects and tin mining dioramas. In addition, visitors can also watch the making of crafts from tin. The best part is that admission to the museum is free. In addition, if you want to find food around Bangka Belitung, there are many places to eat that you can choose from. The dining options available in Bangka-Belitung…
---
Have you ever visited Bangka Island? Bangka Belitung or Bangka Island is a province of Indonesia, which is located on the island of Sumatra. Although not as popular as Bali or Lombok, it has beautiful beaches, white sand, amazing coral reefs, and giant granite rocks. Some of them are rarely visited at all. To experience the untouched splendor of "Island of the Gods" at its best, travel with an experienced local guide, or arrange your own transportation. Enjoy the white sands of Bembang Beach in West BangkaBecause Bangka-Belitung has many…
---
Located in Muntok area in the northwest of the island of Bangka, Mount Menumbing has a height of about 355 meters above sea level. At Mount Menumbing, there is an exile pension of Indonesia's first President Bung Karno and Vice President Bung Hatta by the Dutch during 1948-1949 on the island of Bangka. The exile pension is guarded by the family who is also Abdi Dalem Sultan Palace of Yogyakarta, since generation to generation, where since day one they have responsibility to maintain Bung Karno and Bung Hatta during their…
---
Romodang Beach Romodang beach is located in Belinyu area, north Bangka 77 km from Sungailiat. We can see the very dramatic sunset at noon from this beach and those who like fishing, this is the perfect place to go for it. Moreover, this beach is always visited by those who want to spend time with family and friends for recreational holiday. One of characteristics from this beach is on the stone gate before reaching the beach. Local society call this gate as "Batu Belah Tangkup" or sandwich stone. Another characteristic…
---