Kata Museum by Andrea Hirata in Belitung
---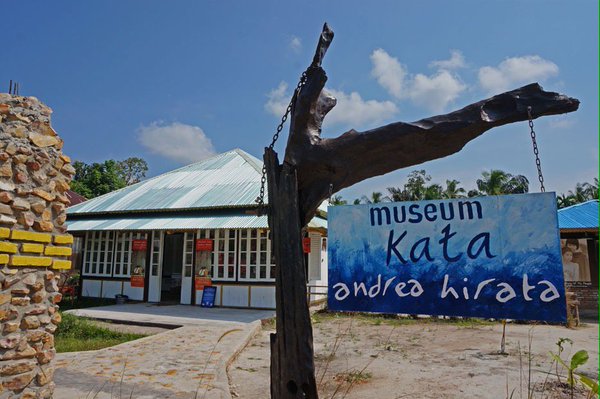 Bangka Belitung Province is the birthplace of a famous Indonesian novelist. The name is Andrea Hirata. This man also built a museum in Gantong Village. No wonder, this becomes a new tourist attraction. The name is Kata Museum. It is situated near to Laskar Pelangi Elementary school, which is also a famous tourist spot in Gantong. The museum opens daily. It starts from 10 am – 17.30 pm. Andrea Hirata built it to inspire young generations. Also, it becomes a place for appreciating literature works of some writers.
The Nuance
Kata Museum is small, yet appealing. Inside, you can find a documentation of Laskar Pelangi Movie. These include novels and photographs. There are also Mahar and Ikal rooms. Mahar is the name of a passionate little boy. He loves both literature and creativity. In this room, you can find many inspiring words. Most of them tell us to be more open-minded and resourceful. Also, there are many types of books and literature works. Are you interested in writings? This museum should be your top priority.
Exploring Kata Museum
In Kata Museum, you can find Kupi Kuli food stand. It offers different types of local snacks. Tourists don't need to worry about the refreshments. Apart from snacks, there is also a famous coffee. Andrea Hirata also loves it. Before exploring the museum, you should know some facts. For instance, it is the first literature museum in Indonesia. It was actually an old house. It ages more than 200 years old. Andrea modified it into an inspiring place for tourists.
One thing, it isn't free to enter Kata Museum. Once you pay the entry fee, you will get either a novel or a CD. The ticket is worth your money, for sure. In several parts of the museum, you can also find Andrea's photographs. There are also inspirational words. Moreover, it is possible to read some previews of Andrea's novels. These have been translated into numerous languages. That means foreigners can also have a good time in the museum.
The main room is called Ikal. It is a boy featured in the Laskar Pelangi Film. No wonder, you can watch a novel preview about Ikal. The most interesting part is a photograph of Ikal and Lintang. This is the scene where these kids separate. Next to Ikal Room, there is Litang Room. As the name suggests, it is the home of Lintang's photographs. The most favored picture is the photograph of Litang and Ikal when they are riding a bicycle. Another room is Mahar. It has been explained before, actually.
Nearby Attractions

Laskar Pelangi Elementary School
Pice Dam
How to Get There
Kata Museum is located in Laskar Pelangi Street. It is in Gantong Village, East Belitung. From Tanjung Pandan, you can choose two routes. The fastest one is through Badau Street – Ranggiang Corner. The trip takes about 1 hour and 40 minutes. Once you reach Gentong, you can directly head to the museum. Near to this location, there is a replica of Laskar Pelangi Elementary School.
Where to Stay

Serrata Terrace Hotel
Horison Belitung Hotel
Duta Pesona

Latest News
Find the History of Bangka at the Pangkal Pinang Tin MuseumThe Tin Museum was officially opened on August 2, 1997. This museum displays the history of tin mining on Bangka Island which contains historical objects and tin mining dioramas. In addition, visitors can also watch the making of crafts from tin. The best part is that admission to the museum is free. In addition, if you want to find food around Bangka Belitung, there are many places to eat that you can choose from. The dining options available in Bangka-Belitung…
---
Have you ever visited Bangka Island? Bangka Belitung or Bangka Island is a province of Indonesia, which is located on the island of Sumatra. Although not as popular as Bali or Lombok, it has beautiful beaches, white sand, amazing coral reefs, and giant granite rocks. Some of them are rarely visited at all. To experience the untouched splendor of "Island of the Gods" at its best, travel with an experienced local guide, or arrange your own transportation. Enjoy the white sands of Bembang Beach in West BangkaBecause Bangka-Belitung has many…
---
Located in Muntok area in the northwest of the island of Bangka, Mount Menumbing has a height of about 355 meters above sea level. At Mount Menumbing, there is an exile pension of Indonesia's first President Bung Karno and Vice President Bung Hatta by the Dutch during 1948-1949 on the island of Bangka. The exile pension is guarded by the family who is also Abdi Dalem Sultan Palace of Yogyakarta, since generation to generation, where since day one they have responsibility to maintain Bung Karno and Bung Hatta during their…
---
Romodang Beach Romodang beach is located in Belinyu area, north Bangka 77 km from Sungailiat. We can see the very dramatic sunset at noon from this beach and those who like fishing, this is the perfect place to go for it. Moreover, this beach is always visited by those who want to spend time with family and friends for recreational holiday. One of characteristics from this beach is on the stone gate before reaching the beach. Local society call this gate as "Batu Belah Tangkup" or sandwich stone. Another characteristic…
---