Enjoying the Attraction in Indomarine Wreck
---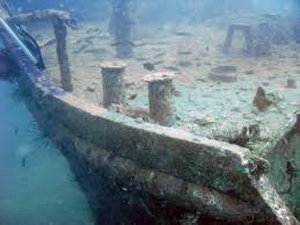 Belitung Island has nearby small islands. All of them are worth to visit. For those who love diving, you can visit Lengkuas Island. It offers an unparalleled marine beauty. Apart from the fishes, there is the wreck. Many tourists come to Lengkuas to enjoy Indomarine Wreck. This diving spot is situated in Tanjung Kelayang Island. It is one of the archeological sites in Bangka Belitung Province. Today, it becomes one a popular vacation spot in Belitung Island. Even beginners are allowed to do it.
The Nuance
When it comes to the atmosphere, the beach is as beauty as other beaches in Belitung. Though, it offers more interesting features. The best one is the shipwreck. It is the reminiscence of an old ship. No wonder, it is covered by alga and corals. This rustic ship becomes a distinct attraction for divers. It is worth to explore, as well. You can dive in and take some pictures of the ship. On top of that, the water has an amazing visibility.
Exploring Indomarine Wreck
It is true beginners are allowed to explore the wreck. Still, you can't dive in carelessly. It is better to come with an instructor or friends. At least, you should have learned the wreck-diving basics. It is a different type of diving activity, after all. The most important thing is the mooring line. You should follow it carefully. The line is the safest path between the wreck and your dive boat. Not to mention it is your shortest path. Never overlook this basic!
When conducting wreck diving, you should recall where you started. Some beginners make a mistake once they descend. They forget their location. This mistake can lead to numerous problems, so you should be careful. Next, you should take advantage of the current. The best way to dive is with the flow. Even though it takes much effort, you will have a smooth return later. The current provides an easy ride back to your boat. Many professionals do this trick, after all.
Also, make sure you have planned your dive. Indomarine Wreck is a little bit uncommon for foreigners. It is better to conduct a small research prior to diving in. An instructor can be a big help. This costs you some money, though. Another important consideration is the gear or equipment. Make sure you wear proper equipment for wreck diving. It protects you against rusted metal, sharp objects, and numerous harmful things in the sea. Even an underwater flashlight is important. Wreck diving in Belitung Island becomes a challenging activity for tourists. Though, everyone shouldn't be careless with it.
Nearby Attractions
• Turtle Conservation in Lengkuas Lighthouse
• Tanjung Kelayang Beach

How to Get There
It is easy to reach Indomarine Wreck. You only need to head to Lengkuas Island. Your first destination will be Tanjung Kayang Beach. From here, you can rent a boat to go to Lengkuas. One thing, there is no accommodation in Lengkuas Island. If you want to rent a hotel room, you should have done it in either Belitung or Kepayang Island.

Latest News
Find the History of Bangka at the Pangkal Pinang Tin MuseumThe Tin Museum was officially opened on August 2, 1997. This museum displays the history of tin mining on Bangka Island which contains historical objects and tin mining dioramas. In addition, visitors can also watch the making of crafts from tin. The best part is that admission to the museum is free. In addition, if you want to find food around Bangka Belitung, there are many places to eat that you can choose from. The dining options available in Bangka-Belitung…
---
Have you ever visited Bangka Island? Bangka Belitung or Bangka Island is a province of Indonesia, which is located on the island of Sumatra. Although not as popular as Bali or Lombok, it has beautiful beaches, white sand, amazing coral reefs, and giant granite rocks. Some of them are rarely visited at all. To experience the untouched splendor of "Island of the Gods" at its best, travel with an experienced local guide, or arrange your own transportation. Enjoy the white sands of Bembang Beach in West BangkaBecause Bangka-Belitung has many…
---
Located in Muntok area in the northwest of the island of Bangka, Mount Menumbing has a height of about 355 meters above sea level. At Mount Menumbing, there is an exile pension of Indonesia's first President Bung Karno and Vice President Bung Hatta by the Dutch during 1948-1949 on the island of Bangka. The exile pension is guarded by the family who is also Abdi Dalem Sultan Palace of Yogyakarta, since generation to generation, where since day one they have responsibility to maintain Bung Karno and Bung Hatta during their…
---
Romodang Beach Romodang beach is located in Belinyu area, north Bangka 77 km from Sungailiat. We can see the very dramatic sunset at noon from this beach and those who like fishing, this is the perfect place to go for it. Moreover, this beach is always visited by those who want to spend time with family and friends for recreational holiday. One of characteristics from this beach is on the stone gate before reaching the beach. Local society call this gate as "Batu Belah Tangkup" or sandwich stone. Another characteristic…
---