A Majestic Satam Monument in Tanjung Bandan City, Belitung
---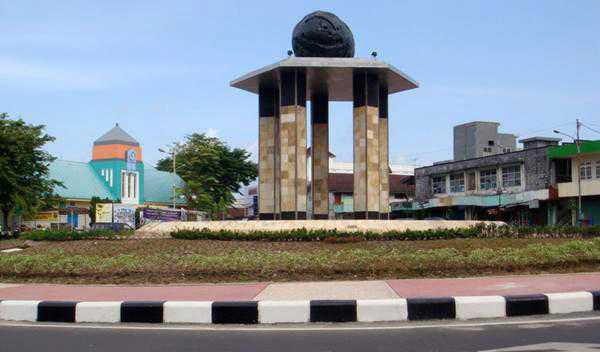 Satam Monument is an icon of Tanjung Pandan City, Belitung. It is a unique monument with a big black stone on the top of it. The location is in the midst of Tanjung Pandan traffic roundabout. Since it is situated on a busy street, tourists can find the monument easily. Though, it becomes a little bit difficult to take pictures of the monument. Many vehicles come and by in the street. According to the locals, the black stone was formed naturally. Satam derives from "Hitam", which means black.
The Nuance
In terms of appearance, the monument is simple yet gallant. It is surrounded by several small plants. On the top of it, there is a big stone. It is called Satam. The color is black. It looks like a giant charcoal. Actually, Belitung has a smaller size of Satam stones. The locals use them as an ornament or jewelry. In fact, they consider them as a sacred item. They use the stones to repel evils and bad things. The monument represents the existence of Satam.
Exploring Satam Monument
The monument features a fountain. It is quite calming. There are 8 pillars and one cantilever. The size is enormous, for sure. As mentioned earlier, it is difficult to take pictures of the monument. It is due to heavy traffic. Apart from a tour attraction, the monument becomes a symbol of Satam stone. Tourists can buy ornaments or souvenirs which are made of Satam. You can buy them in Tanjung Pandan City. No worries. There are some souvenir stores nearby. They sell many unique items.
In the right part of Satam Monument, you can find a historical building. It was a Belitung Office. It had the function to monitor the entire mining activity on the island. Though, the building has undergone numerous upgrades. Thus, the historical value decreases. Aside from this structure, there are many souvenir stores near to the monument. These include a necklace, rings, etc. The prices vary, though. You should learn how to bargain, so you can get cheaper prices.
The best way to take a picture of the monument is from afar. The problem is the traffic. You should pay attention to where you stand, as well. Thus, it is better to come in the early morning. There aren't many vehicles passing by. If you have a good photography skill, it won't be a difficult task. Overall, what you need is a good angle. Once you explore the monument, you can go to nearby attractions. Don't forget to buy some souvenirs, as well!
Nearby Attractions

Blue Kaolin Lake
Batu Mentas
How to Get There
Satam Monument is located in Tanjung Pandan City. There are two ways to reach this tour spot. First, it is by sea. If you come from Jakarta, you can take a ferry to Tanjung Pandan Port. The trip takes about 22 hours. If you want a faster trip, you should take an airplane to Hanandjoeddin Airport. From here, you can take a local transportation to reach Tanjung Pandan City. The monument is situated in the midst of the city. It is easy to notice, for sure.
Where to Stay

Max One Hotel
Mustika Hotel
Tamara Hotel
Demuon Hotel

Latest News
Find the History of Bangka at the Pangkal Pinang Tin MuseumThe Tin Museum was officially opened on August 2, 1997. This museum displays the history of tin mining on Bangka Island which contains historical objects and tin mining dioramas. In addition, visitors can also watch the making of crafts from tin. The best part is that admission to the museum is free. In addition, if you want to find food around Bangka Belitung, there are many places to eat that you can choose from. The dining options available in Bangka-Belitung…
---
Have you ever visited Bangka Island? Bangka Belitung or Bangka Island is a province of Indonesia, which is located on the island of Sumatra. Although not as popular as Bali or Lombok, it has beautiful beaches, white sand, amazing coral reefs, and giant granite rocks. Some of them are rarely visited at all. To experience the untouched splendor of "Island of the Gods" at its best, travel with an experienced local guide, or arrange your own transportation. Enjoy the white sands of Bembang Beach in West BangkaBecause Bangka-Belitung has many…
---
Located in Muntok area in the northwest of the island of Bangka, Mount Menumbing has a height of about 355 meters above sea level. At Mount Menumbing, there is an exile pension of Indonesia's first President Bung Karno and Vice President Bung Hatta by the Dutch during 1948-1949 on the island of Bangka. The exile pension is guarded by the family who is also Abdi Dalem Sultan Palace of Yogyakarta, since generation to generation, where since day one they have responsibility to maintain Bung Karno and Bung Hatta during their…
---
Romodang Beach Romodang beach is located in Belinyu area, north Bangka 77 km from Sungailiat. We can see the very dramatic sunset at noon from this beach and those who like fishing, this is the perfect place to go for it. Moreover, this beach is always visited by those who want to spend time with family and friends for recreational holiday. One of characteristics from this beach is on the stone gate before reaching the beach. Local society call this gate as "Batu Belah Tangkup" or sandwich stone. Another characteristic…
---