A Replica of Laskar Pelangi Elementary School in Bukit Raya Village, Belitung
---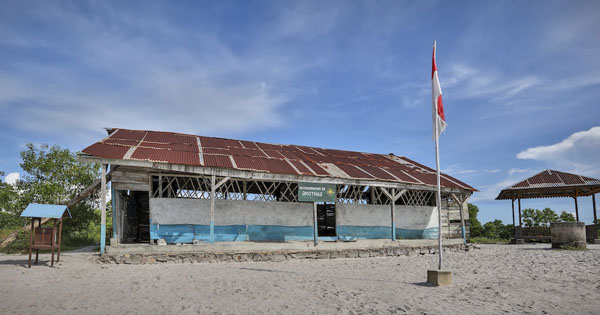 Bangka Belitung Province is part of Indonesia Archipelago. In Belitung Island, you can find many interesting buildings. Have you watched Laskar Pelangi? It is a renowned movie in Indonesia. In Bukit Raya Village, there is an elementary school called SD Laskar Pelangi. It is the replica of Gantung Muhammadiyah Elementary School. It became a setting of the movie, actually. Today, this structure becomes one of the best tourist magnetism in Belitung. Tourists are allowed to visit it freely. Are you interested?
The Nuance
Laskar Pelangi Elementary School is situated on a sandy hill. It is near to a lake. A unique part is its brittle woods. Even though it appears old and fragile, the structure radiates an exotic charm. It is definitely attractive. Some parts of the building are hollow. The builders made it that way, actually. It was used as the shooting site of Laskar Pelangi. From afar, this elementary school is obtrusive. There are no trees near to it. You can find only dry grasses nearby.
Exploring Laskar Pelangi Elementary School
Even though the structure is quite old, it is worth a visit. The classrooms consist of modest chairs and tables. The walls are made of woods. These are the same items used in the movie, after all. The floors are sandy. This building represents poor quality facilities in Bukit Raya Village. In the back of the building, you can find a simple toilet. There is a well, too. The kids use it for ablutions. These features aren't luxurious. Though, these create a rustic and exotic ambiance.
Laskar Pelangi Elementary School attracts more visitors every day. People come here for trailing the setting of a famous movie in Indonesia. You can take advantage of the building as a valuable photography background. Despite its fragile appearance, this elementary school remains popular. The thing is it is only a replica of the real elementary school. That means the constructors made it that way. In reality, it is a sturdy and new building.
It is allowed to carry a camera. You can take pictures either from the outside or inside the building. Also, it is free. There is no fee at all. Everyone can enter this location freely. Isn't this great? Here is the thing. You should not expect many facilities in Bukit Raya Village. It is better to carry some snacks or drinks. At noon, the temperature can be quite uncomfortable. Also, you should wear proper footwear. It is because the sandy hill isn't smooth.
Nearby Attractions

How to Get There
Your destination is Gantong District in East Belitung. If you come from Tanjung Pandan City, the trip takes about 100 km. A car is the best transportation. The trip only takes 1-2 hours by a car. The traffic isn't heavy either. That makes a comfortable trip. Not to mention the road is quite smooth. Once you reach Gantong, you must head to Bukit Raya Village. For the best trip, you can hire a tour guide. He may help you regarding the navigation.
Where to Stay

Horison Hotel
Serrata Terrace Hotel

Latest News
Find the History of Bangka at the Pangkal Pinang Tin MuseumThe Tin Museum was officially opened on August 2, 1997. This museum displays the history of tin mining on Bangka Island which contains historical objects and tin mining dioramas. In addition, visitors can also watch the making of crafts from tin. The best part is that admission to the museum is free. In addition, if you want to find food around Bangka Belitung, there are many places to eat that you can choose from. The dining options available in Bangka-Belitung…
---
Have you ever visited Bangka Island? Bangka Belitung or Bangka Island is a province of Indonesia, which is located on the island of Sumatra. Although not as popular as Bali or Lombok, it has beautiful beaches, white sand, amazing coral reefs, and giant granite rocks. Some of them are rarely visited at all. To experience the untouched splendor of "Island of the Gods" at its best, travel with an experienced local guide, or arrange your own transportation. Enjoy the white sands of Bembang Beach in West BangkaBecause Bangka-Belitung has many…
---
Located in Muntok area in the northwest of the island of Bangka, Mount Menumbing has a height of about 355 meters above sea level. At Mount Menumbing, there is an exile pension of Indonesia's first President Bung Karno and Vice President Bung Hatta by the Dutch during 1948-1949 on the island of Bangka. The exile pension is guarded by the family who is also Abdi Dalem Sultan Palace of Yogyakarta, since generation to generation, where since day one they have responsibility to maintain Bung Karno and Bung Hatta during their…
---
Romodang Beach Romodang beach is located in Belinyu area, north Bangka 77 km from Sungailiat. We can see the very dramatic sunset at noon from this beach and those who like fishing, this is the perfect place to go for it. Moreover, this beach is always visited by those who want to spend time with family and friends for recreational holiday. One of characteristics from this beach is on the stone gate before reaching the beach. Local society call this gate as "Batu Belah Tangkup" or sandwich stone. Another characteristic…
---