Travel around Bali Giri Jati Village in Belitung Island
---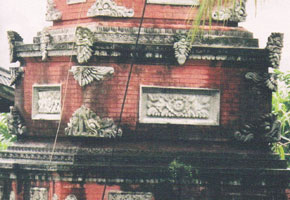 A vacation to Belitung Island is worth your money. It is because you have limitless vacation destinations. In Sijuk District, you can find a unique village. It is called Bali Giri Jati Village. The location is about 26 km from Tanjung Pandan. As the name implies, this is the home of people from Bali. These people retain their Balinese culture and live in Belitung Island. Still, they are able to mingle with the natives. In this village, they mainly work as a farmer. Some of them also work as a miner.
The Nuance
For tourists, Bali Giri Jati Village offers unique attractions. It is all about culture. For instance, there is Barong Dance performance. The village has a solemn and mystical nuance. The architectures are similar to Bali's. That means you can see beautiful ornaments on the building's wall. The village also features a temple. Villagers use it for performing traditional ceremonies. It is also possible to witness their activity. You can feel the same atmosphere like that of the Bali Island.
Exploring Bali Giri Jati Village
The best time to explore the village is in the morning. You may hear from the locals regarding other names of the village. Many people call it Balitong. It derives from the Indonesian Language. The name derives from Bali Sepotong. The meaning is "part of Bali". Many tourists come here to learn both history and background of the village. According to the locals, Balinese is the forefather of Belitung people. There is even a folktale. It is said Belitung Island is the home of a Bali's Princess and her dog. They were exiled to Belitung due to their forbidden relationship.
Apart from learning the history of Bali Giri Jati Village, tourists are allowed to take pictures around the village. It is possible to join some performances and ceremonies, as well. Make sure you can talk like an Indonesian. If not, you should come with a tour guide. Actually, the village isn't quite big. You can walk comfortably here. In fact, the length is only about 2 km. There aren't too many people, so it is quite peaceful. Thus, you should take advantage of this serenity.
Another worthy activity is to watch traditional dance. The most popular one is Barong Dance. The thing is you should have known the schedule. You aren't likely to enjoy this dance by a sudden visit. It is better if you talk to your tour agency beforehand. They will help you with the information. As a precaution, you must carry a camera. You won't miss beautiful moments in Bali Giri Jati Village, will you?
Nearby Attractions

Kaolin Lake
Jimbaran Belitung
Tanjung Tinggi Beach
Batu Mentas
How to Get There
If you come from Jakarta, you should take a ferry from Tanjung Priok Port to Tanjung Pandan. Once you reach Belitung Island, you can directly head to Bali Giri Jati Village. It takes about 30 minutes. For a comfortable trip, a rented car is the best choice. Hiring a tour guide is an option. If that is the case, make sure you have enough money to hire him.
Where to Stay

Bukit Berahu Resort
Sriwijaya Lodge