An Interesting Nature Tourism in Badau District – Batu Mentas
---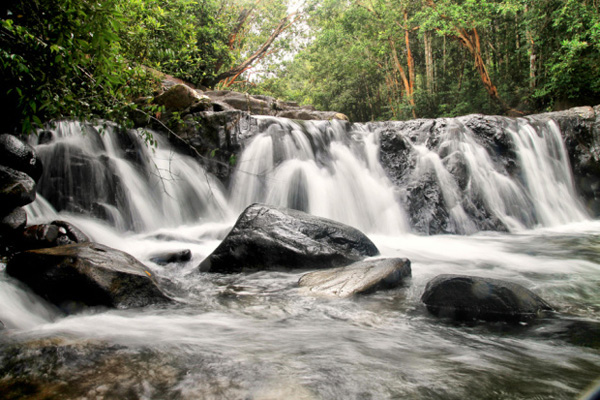 A vacation to Belitung is worth thousands of experience. At least, you can explore many beautiful landscapes. One of the best nature retreats is Batu Mentas. It is located in Badau District. Actually, it belongs to Kelekak Datuk Village. Most of the locals come here for swimming, playing water, and relaxation. Batu Mentas is actually a natural river. It is enclosed by forests, river stones, clear water, and fishes. Batu means "stone" and Mentas means "out of water". Due to its solemn nature, it becomes a soothing place to relax.
The Nuance
As the name suggests, you may expect many river stones scattered on the river. The water is clear, so you can see fishes plainly. It is quite fresh. Almost all visitors want to get in the water. In some parts of the river, you can swim with them. The shady trees become a perfect extra. In some occasions, you can hear the voices of nature. It is because the river features a small forest. It is the home of numerous creatures.
Exploring Batu Mentas
It is true Batu Mentas is famous for its solemn nature. Most of the visitors want to swim and play in the water. Though, it is also the place to witness unique creatures like Bancanus Saltator. The locals protect this rare animal in nearby conservation. Thus, it becomes an extra attraction in Batu Mentas. Bancanus is actually a small monkey. You can see some of them in the conservation. The locals call them Pelilean. In fact, there are other animals like Kelaras Squirrel, Siaw, and much more.
Next thing to do is an outbound. It is possible to explore the river using a canoe. During the adventure, you are able to witness refreshing forest and soothing atmosphere. The other outdoor activities are flying fox and hiking. You must not miss them. Once you enjoy those activities, it is time to eat! There is a nearby restaurant. The name is De Bang Utan Resto. This is the place to replenish your energy. If you want to relax, there are some gazebos near to the river.
The best time to visit Batu Mentas is during the dry season. It is between June and September. As for the tips, you must not forget your climbing shoes. It is likely you are going to pass lots of river rocks. Also, first aid kit is a must. You don't know what is going to happen, after all. Another consideration is the tour member. It is better to conduct a group tour. This way, you can enjoy a merrier vacation in Batu Mentas.
Nearby Attractions

How to Get There
Batu Mentas is easy to reach. From Tanjung Pandan, it takes about 30-45 minutes. If you come from Manggar City, it takes up to an hour. The best type of transportation is a car. Once you reach the location, you should pay the entry fee. No worries. It is affordable. Since it is nature tourism, you should not expect many facilities. Though, there are several hotels nearby. Also, you must buy a map regarding accommodations near to Manggar City.
Where to Stay

Hanggar 21 Hotel
Damuon Hotel
Tamara Hotel

Latest News
Find the History of Bangka at the Pangkal Pinang Tin MuseumThe Tin Museum was officially opened on August 2, 1997. This museum displays the history of tin mining on Bangka Island which contains historical objects and tin mining dioramas. In addition, visitors can also watch the making of crafts from tin. The best part is that admission to the museum is free. In addition, if you want to find food around Bangka Belitung, there are many places to eat that you can choose from. The dining options available in Bangka-Belitung…
---
Have you ever visited Bangka Island? Bangka Belitung or Bangka Island is a province of Indonesia, which is located on the island of Sumatra. Although not as popular as Bali or Lombok, it has beautiful beaches, white sand, amazing coral reefs, and giant granite rocks. Some of them are rarely visited at all. To experience the untouched splendor of "Island of the Gods" at its best, travel with an experienced local guide, or arrange your own transportation. Enjoy the white sands of Bembang Beach in West BangkaBecause Bangka-Belitung has many…
---
Located in Muntok area in the northwest of the island of Bangka, Mount Menumbing has a height of about 355 meters above sea level. At Mount Menumbing, there is an exile pension of Indonesia's first President Bung Karno and Vice President Bung Hatta by the Dutch during 1948-1949 on the island of Bangka. The exile pension is guarded by the family who is also Abdi Dalem Sultan Palace of Yogyakarta, since generation to generation, where since day one they have responsibility to maintain Bung Karno and Bung Hatta during their…
---
Romodang Beach Romodang beach is located in Belinyu area, north Bangka 77 km from Sungailiat. We can see the very dramatic sunset at noon from this beach and those who like fishing, this is the perfect place to go for it. Moreover, this beach is always visited by those who want to spend time with family and friends for recreational holiday. One of characteristics from this beach is on the stone gate before reaching the beach. Local society call this gate as "Batu Belah Tangkup" or sandwich stone. Another characteristic…
---