A Wonderful Site for Photography - Mentikus Beach Belitung
---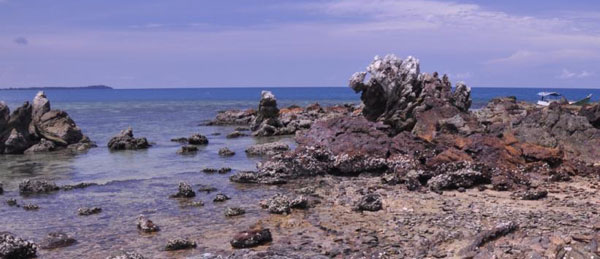 Beaches are the most recommended spot to relax. If you look for numerous options of coastal areas, Belitung Island is a suggested choice. In Sungai Samak Village, there is Mentikus Beach. The coastline is situated within a palm tree plantation. Another name of the beach is "the stone haven". No wonder, you can find many shapes of rocks on the shorelines. These are not granites, though. Most of the visitors come to the beach for photography. The others take advantage of its atmosphere for relaxation.
The Nuance
What makes Mentikus Beach so special? It has different features than other beaches in Belitung Island. For example, you should not expect white sand. Even the though the waves aren't strong, the sea is deep. Near to the shorelines, you can find numerous rocks. These become the best spots to explore, though. In the horizon, you can see the shape of mountains. When it comes to the atmosphere, it is a little bit gusty. Some seagulls often come to this beach, as well.
Exploring
Most of the visitors are looking for perfect pictures in Mentikus Beach. Even professional photographers often come here. They are hunting the best moments and objects. For example, the beach offers attractive and colorful rocks. The sand is white and the waves aren't too strong. Due to these features, many people call it "the stones photography's paradise". These objects suit numerous extras, especially human. That means you can come with models. In some occasions, people also come here for a pre-wedding session.
The next lure is the history of Mentikus Beach. In the past, people came here for mining. To be exact, it was a tin mining site. At that time, the Dutch controlled this area. The most fruitful location was in Gunong Tikus. Today, you can find the reminiscences of such old mining site. These include water storage, warehouse, office, jails, etc. There are also some flakes of Chinese bowls. These were used by miners back then.
Overall, Mentikus Beach is worth a visit. The shorelines feature many stunning objects. As mentioned before, these are perfect for photography. If you love history, there are many old buildings in this area. A unique one is Anno structure. It was built in 1915. The shape is similar to a church. It has the height of 10 meters. According to the locals, the building was used to store tools and ores. The others say it was used as a power plant.
Nearby Attractions

Blue Kaolin Lake
Gusong Bugis
Batu Mentas
How to Get There
Mentikus Beach is situated in Badau District. To be exact, it is in Sungai Samak Village. From Tanjung Pandan, you may spend about 40-50 minutes. The trip passes through Air Seru Village, as well. If you aren't good with navigation, you can take advantage of a tour guide. Usually, your tourist agent may provide such kind of service. One thing, there are no nearby accommodations. Due to this reason, you should look for hotels in Tanjung Pandan City. The prices vary, too.
Where to Stay

Mustika Hotel
Mitra Belitung
Belitong Inn

Latest News
Find the History of Bangka at the Pangkal Pinang Tin MuseumThe Tin Museum was officially opened on August 2, 1997. This museum displays the history of tin mining on Bangka Island which contains historical objects and tin mining dioramas. In addition, visitors can also watch the making of crafts from tin. The best part is that admission to the museum is free. In addition, if you want to find food around Bangka Belitung, there are many places to eat that you can choose from. The dining options available in Bangka-Belitung…
---
Have you ever visited Bangka Island? Bangka Belitung or Bangka Island is a province of Indonesia, which is located on the island of Sumatra. Although not as popular as Bali or Lombok, it has beautiful beaches, white sand, amazing coral reefs, and giant granite rocks. Some of them are rarely visited at all. To experience the untouched splendor of "Island of the Gods" at its best, travel with an experienced local guide, or arrange your own transportation. Enjoy the white sands of Bembang Beach in West BangkaBecause Bangka-Belitung has many…
---
Located in Muntok area in the northwest of the island of Bangka, Mount Menumbing has a height of about 355 meters above sea level. At Mount Menumbing, there is an exile pension of Indonesia's first President Bung Karno and Vice President Bung Hatta by the Dutch during 1948-1949 on the island of Bangka. The exile pension is guarded by the family who is also Abdi Dalem Sultan Palace of Yogyakarta, since generation to generation, where since day one they have responsibility to maintain Bung Karno and Bung Hatta during their…
---
Romodang Beach Romodang beach is located in Belinyu area, north Bangka 77 km from Sungailiat. We can see the very dramatic sunset at noon from this beach and those who like fishing, this is the perfect place to go for it. Moreover, this beach is always visited by those who want to spend time with family and friends for recreational holiday. One of characteristics from this beach is on the stone gate before reaching the beach. Local society call this gate as "Batu Belah Tangkup" or sandwich stone. Another characteristic…
---